'Redhead' Dating Sites*
Along with Redhead Passions (the site you are on now), the sites listed below all focus on connecting redheaded singles with others who are interested in dating redheads. The sites listed below range from those focused on Redhead Dating to others focused on Ginger chat. The primary goal is to connect people though. Each site, regardless of the company running it, shares many of the same characteristics as many of the other sites. So, if you are looking for a great dating site focused on Redheaded singles, then there are MANY here to choose from, so look through the ones below to find the one that seems like the best fit for you.
AD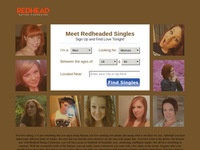 Redhead Dating Connexion
Meet Redheaded Singles! Sign Up and Find Love Tonight!
While many people will say they don't have a 'type' or a dating preference, there are those who know exactly what flips their switches. If you find yourself drawn to ginger haired singles, then Redhead Dating Connexion is the site for you.

Date A Redhead
Start searching 1000's of Redheads in your area today!
If you are a redhead, or you are attracted to redheads, then you will fit right in on Date A Redhead. If gingers are your thing, then imagine a whole site dedicated to helping connect redheads with redophiles (i.e. redhead lovers).

Ginger Dating
Date A Ginger
Red hair. Smooth creamy skin. Beautiful freckles. If you find yourself attracted to redheads, then Ginger Dating has been designed to help you find your ginger soul mate.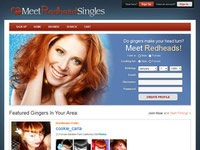 Meet Redhead Singles
"Find a Partner for a Lifetime with Meet Redhead Singles!"
If you have a preference for redheaded men or for redheaded women, then embrace it. Find the person you are attracted to, regardless of the reason for the attraction. Beauty is only skin deep, but when you pair red hair and pale skin with freckles, well that is pretty beautiful. You can explore inner beauty through dating, but first there must be chemistry. Join for free!

Redhead Date
Date Redheaded Singles In Your City
Looking for local redheads to date? Are you are redhead looking for those who are more than just a little interested in dating gingers? Redhead Date is a site built specifically for redheads and their admirers!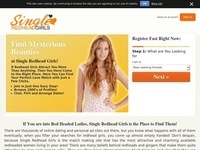 Single Redhead Girls
"If You are into Red Headed Ladies, Single Redhead Girls is the Place to Find Them!"
If Redhead Girls Attract You More Than Anything, Then You Have Come to the Right Place. Find Mysterious Beauties at Single Redhead Girls!
AD
*Sites listed on this page are a combination of ads, affiliate related Sites and general non-partnership related sites that match the theme of Redhead Passions.